TIPSTER — style advice app
ABOUT

Tipster gives users personalized style advice from industry experts and tastemakers in fashion, hair and beauty. I worked in collaboration with an early-stage startup and digital product agency as the in-house UX Designer and Lead UX Researcher to design the Client (a.k.a. the advice-seeker) and Stylist experience.

Below are highlights of the Client experience.

COMPANY / CLIENT

SFCD Digital Product Agency and Tipster

ROLES

UX Design
Research
Testing
Content Strategy
Copywriting
Photo Editing
GOALS

Establish immediate trust
Offer quality advice
Offer different service tiers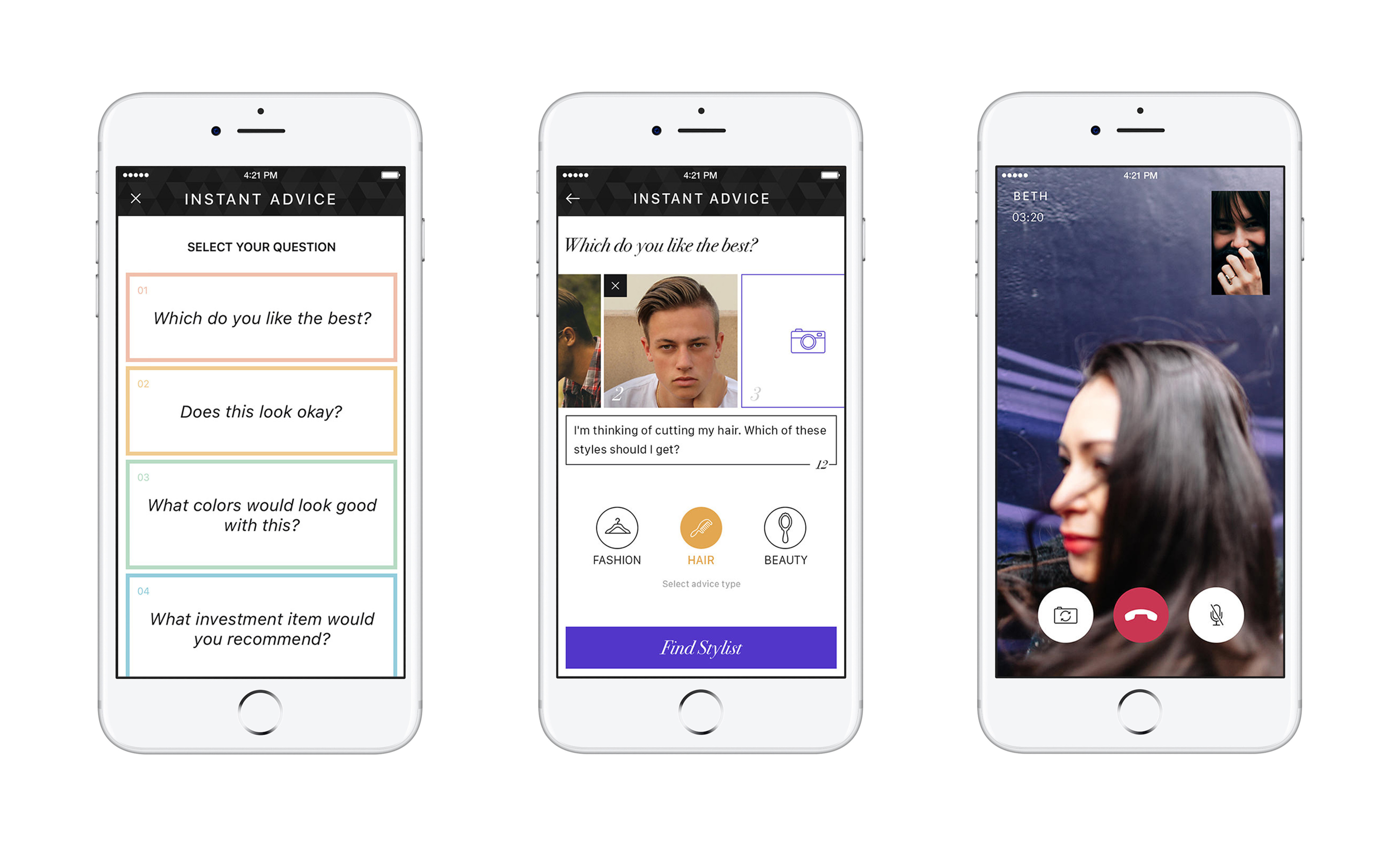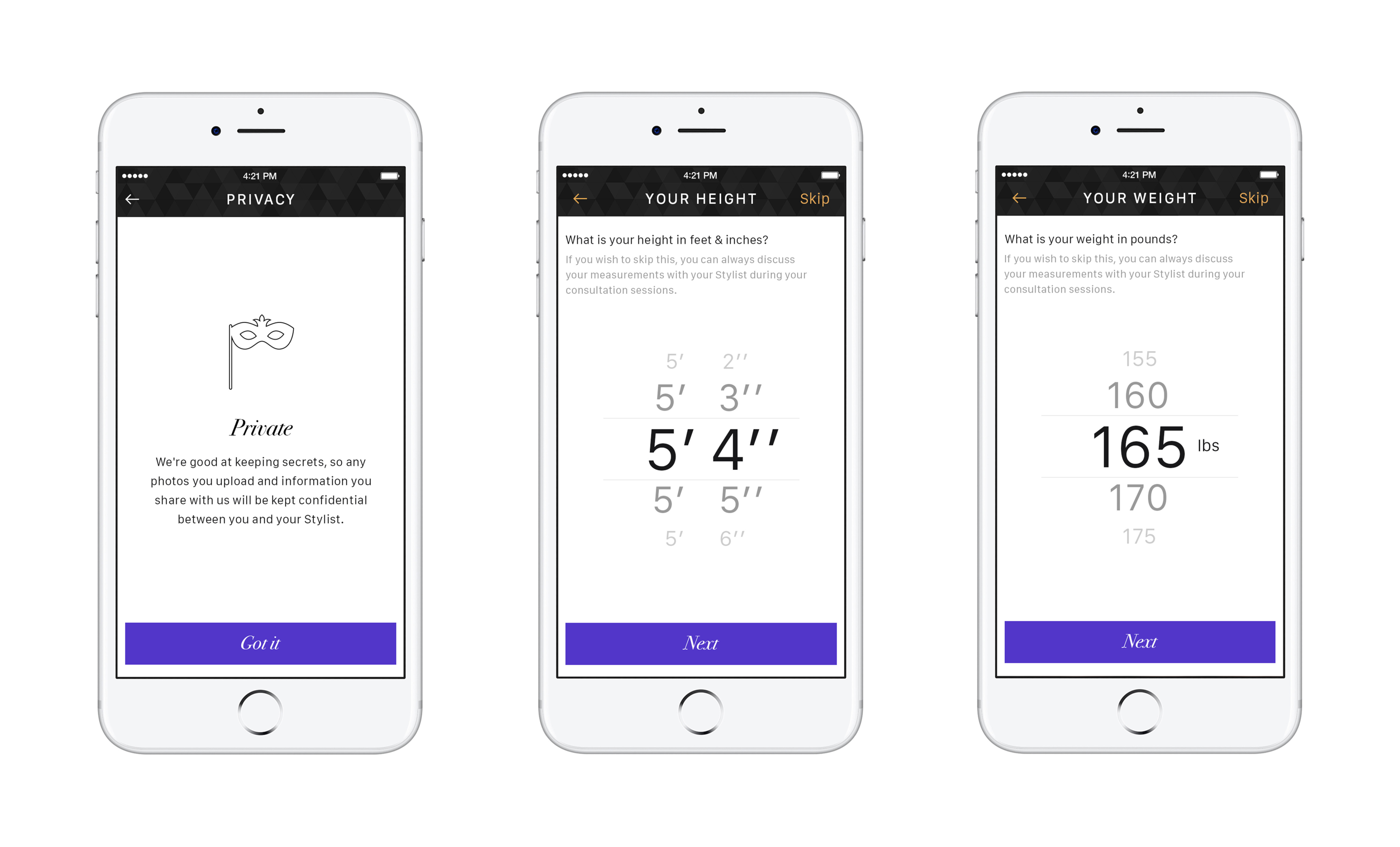 ---
One of the main challenges was to reduce the barriers to entry in working with a stylist. Many research participants assumed it would be too expensive and wouldn't know where to begin in finding the right stylist. Tipster has features to make the discovery process easy and automated, with affordable service tiers starting at $1.99 for Instant Advice.
---


"I'd love product suggestions with fool-proof applications where I can do it myself."

— LAURYN, Chicago, 21
"I'm starting a new job in a new city & industry after having a baby, so I'm looking for my 'mid-30s, cool-mom-working-in-tech' style that's effortlessly rock 'n' roll."

— MONICA, Seattle, 33
"I recently lost a bit of weight and could use help adjusting to a fitter body."

— NATHAN, Denver, 42



---
PERSONAS — a composite from user research takeaways
---
User Testing Highlights
ADVICE TYPE — Users weren't reading the instructional copy on top of the screen, likely because of how the UI was laid out: the eyes and fingers went straight to the buttons, and because the options were displayed in a binary layout, the design suggested "this or that." The tendency was to select one option and move on, but prior research suggested that both types of style advice were sometimes desired. We added a third button of "both," streamlined the instructional copy, and altered the layout so that the eyes would be more drawn to the top of the screen so users would read in a top-down fashion, and even if they didn't read the text, it made the "both" option apparent.
---
CONSULTATION PRICING — I did an A/B test on the Stylist's Rates pricing format and option B got the most votes, surpassing A and C by almost 3 times. What I learned is that breaking down a price unit that isn't useful or realistic could make users lose trust in the product, with the perception that the pricing format is trying to deceive them. Because realistically, no session will only last one minute. Option B was also favored because it saved users a step from having to do the math of what a 10-minute session (a realistically timed session) would cost them. The detailed pricing copy below the price in option B is also more clear than in option C.
---
ONBOARDING — I limited the range to 12 choices to prevent users from feeling overwhelmed with options, but testing revealed that the onboarding process was fun, and users wished they could continue scrolling to select more preferences. The visual design and relatability of the options helped with making the onboarding an engaging process.